2 of 3 – Most Likely You Go Your Way and I'll Go Mine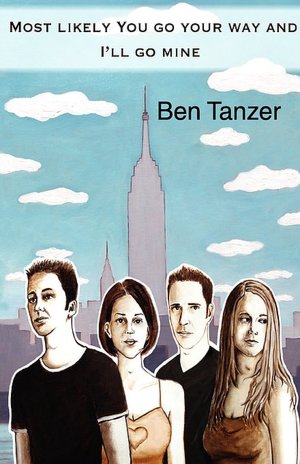 And so, during my first month with Baby Jackson, I searched the tall stack of books on my living room end table for anything with a thin spine. The fewer pages, the better. I would not be opening Gravity's Rainbow or Sister Carrie or Infinite Jest, or even Essex County or Fortress of Solitude; at the end of 2011, I'd dedicated myself to Jennifer Egan's Look at Me, a 400-page multi-POV monster that—in those frantic December days that involved final portfolios from students, holiday parties, family visits, bed rest for my 8 ½-month pregnant wife, trips to the OBGYN and the hospital—had taken me a more than a month to finish. Sometimes there were full days between reading opportunities, and I'd need to reread pages and pages just to understand where the hell I was, and really, Egan's book did me no favors: both characters in Look at Me are named Charlotte, and sometimes the point-of-view shifts mid-chapter, or mid-page, or mid-paragraph, and sometimes we unexpectedly travel back in time, and it's a book about identity loss and identity creation and really? I chose to read this during the hectic third trimester?
Anyway. During the baby's first month in our house, I would not be "challenging myself" to any other long or difficult reads. That was the lesson I learned.
The first book I pulled from my stack was Ben Tanzer's Most Likely You Go Your Way and I'll Go Mine. 172 pages (soaking wet), with an average-to-large typeface (if this book had been printed in Look at Me's tiny typeface, it probably wouldn't have cracked a dozen pages). And Tanzer writes in quick back-and-forth dialogue, short two-page chapters, so—in a world of constant disruption—I just figured this would make a nice confidence-building start to my 2012 reading life. That was the plan, anyway.
But I don't know that it turned out exactly the way I'd hoped: while there were moments in Most Likely You Go Your Way and I'll Go Mine that I was able to genuinely enjoy (more on this in a moment), it was also difficult for me to ever get truly comfortable. Full disclosure: I know Ben Tanzer, and I like him, and I enjoy hearing him talk, and I've even worked with him ("The Gift"), so I don't think I've got to pile on the praise that we've seen on so many book blogs and review sites…he's talented, and he knows that I recognize his talents, so no need to make this into a tribute page. For purposes of this particular review, I'd rather focus on the reading experience itself.
And here's the thing: I think that the short fragmented chapters in Tanzer's books can sometimes work against his stories. From a general storytelling standpoint, it's like the movie Syriana: a half-dozen different narratives, and constant scene shifts. This sort of structure can certainly work if the reader has got time to do a lot of work on his own, a lot of concentrating (and in the case of Syriana, pausing the movie and turning to a friend and asking, "Where are we again? Who's this guy?"), but the structure also prevents the reader from sticking with a single character and—in spending a great deal of time with him/her—understanding the character's motivations; the constant jump-cuts can prevent true immersion, in other words.
In Most Likely You Go Your Way and I'll Go Mine, Tanzer is so quick to change scenes and perspectives that I was rarely able to settle in one place before moving on to the next. Adding to my difficulty was Tanzer's trademark dialogue, something that most of his fans absolutely love: Tanzer might deliver two full pages of dialogue with only a few sparing "dialogue tags" to show attribution. Often, he won't even introduce the scene with a paragraph of exposition or description; he just opens the chapter and jumps immediately into the conversation. The result of this strategy is that the individual chapters will read like transcribed conversations, scripts. And while I acknowledge that some of it is very honest conversation, and that Tanzer's ear is perceptive (wait, am I mixing senses? can an ear be perceptive? We're going to ignore this potentially mixed or misconstructed metaphor), I also wanted—in my current reading environment—to see Tanzer slow down to set his scenes, rather than revealing location through a clip of easily missed dialogue. I wanted to see the conversations slowed down, as well, so that I wouldn't get lost in deciphering Character A from Character B. I wanted to see what the characters were doing as they talked, also. What was happening around them? I know the conversation itself was important to the characters, but what about their gestures, their facial expressions, their taking notice of (or ignoring) their surroundings?
Of course, my current reading habits lead me to wonder how much of this criticism is valid, and how much is simply the result of having a baby on my shoulder. Tanzer is wildly popular in the indie lit world, so am I—the guy who is constantly disrupted as he reads, and who will be jolted from the read by a sudden terrible cry as my baby farts (yes, that's definitely the case: he closes his eyes and squints and concentrates and screams and then FART!)—alone in this feeling? Is this an instance where my criticism is a result of my reading habit, no different than my freshman writing students who will complain that an assigned essay takes "sooo long" and/or is "sooo boring," but that's only because they tried to read it while watching Jersey Shore? When I read dialogue and get lost in the back-and-forth, am I wrong (or just old and crusty) to suggest that Tanzer slow down?
Because listen, there was a moment in my read of Most Likely You Go Your Way and I'll Go Mine when all of Tanzer's authorial skills came together and the narrative became so fluid and impeccably paced that even Baby Jackson seemed to recognize it, falling asleep on my chest and allowing me to get into a steady rhythm so I could plow through the book's final quarter in one sitting. Geoff, fresh off a decision to leave his girlfriend, follows another woman (on whose inner thigh he has noticed a tiny tattoo, both of them sitting across from one another on the subway) from the train to the streets of her neighborhood, the prose direct and introspective and free of the script-like dialogue from earlier chapters:
The girl gets up to leave the train. It is not Geoff's stop and he has no reason to exit here. Then again, there are the girl's white panties and her tattoo, her beautiful skin and the possibility that he might one day see her killer hair spread across his pillow. These are all good reasons to exit immediately.
There is also the fact that he is back in the game, and when you are in the game you have to play. He follows her off of the train.
Geoff walks up the stairwell behind the girl, trying not to walk too close. While it is true that he is more or less stalking her, he doesn't want to feel like a stalker, and he certainly doesn't want her to perceive him as one. They are meeting randomly. They have just happened to get off of the same train at the same stop and isn't it amazing how these things happen. (126-7)
The chapters are still short (in fact, the above passage occurs over two chapters), but we don't ever switch point-of-view or scene; we only push forward with this one single important moment in the character's life. There is no chance that a reader can get lost in back-and-forth dialogue, either, because we are literally watching a Taxi-Driver-esque scene of a solitary man descending into stalker status. At this point, you can't put the novel down. You've got to see what he does next, where he goes, what will happen to him. It's Cormac McCarthy's Child of God set in Bret Easton Ellis' New York, touched with Nick Hornby's darkly comic A Long Way Down. It's twisted and honest, and it's deeply affecting, though perhaps the effectiveness of this section of the book directly revealed to me what I felt were the weaknesses of the book's first half.
Tanzer's book was the first novel I was able to read in my earliest days of fatherhood, and as I mentioned earlier, I think it was important to build my confidence. This is something that I think I've been doing my entire life: when I step away from an activity (reading, writing, exercising), I need a baby step to convince myself that I'm still the same guy. I can still run three miles, I can still write ten pages of prose, I can still finish a book in a reasonable time frame. Ben Tanzer, who is a big name in indie literature, and who (bless his soul) is a strong supporter of small-press fiction all-around, was my guinea pig. My apologies to him (and his fans) if I haven't done justice to his work with my discussion here, but many thanks to Mr. Tanzer for helping me get back on track in my reading life.
<<Read Part 1, "Intro"
>>Read Part 3, " Prize Winners, Ayiti"