Dear readers. Orlando readers in particular. Or those of you who will be in the Orlando area on Sunday May 29th.
Burrow Press is taking part in a world-touring event called Literary Death Match. I know, it sounds so cool in name that you probably need no further explanation. Allow me to explain, nonetheless.
Literary Death Match (LDM) is like a sailor in that it is rowdy and has traveled the world. Also, it looks good in navy blue. LDM is like a matchmaker in that, wherever it goes, it looks to marry fiction and fun… Here's a catchy image: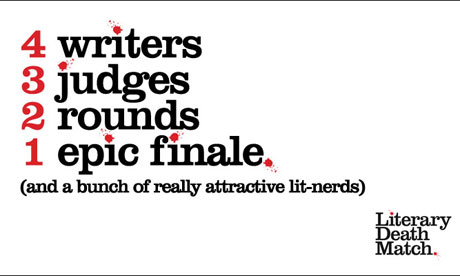 …and maybe you should just watch this: Literary Death Match in two minutes.
And definitely you should come to the event.
There will be 3 quirky judges offering delightfully useless commentary:
Vanessa Blakeslee – local writer and poet extraordinaire
Phil Frazier – executive producer of Madden NFL 2012
Giti Khalsa – former drummer of Seven Mary Three
And four writers who, judging by the judges, need to brush up on not just writing, but video games and drumming.
J. Bradley – author of Dodging Traffic and The Serial Rapist is Sitting Behind You; repping Ampersand Books
Ashley Inguanta – recent creative writing MFA from UCF; repping same.
Ryan Rivas – write, editor and repper of Burrow Press (full disclosure, that's me)
Gregory Sherl – author of I Have Touched You; repping Dark Sky Books
They will be giving it their all. So please come out and support Orlando's literary community. And spread the word! Here's a flier:
Download the PDF and pass it on!